THE BEST GAMERS - THE BUZZ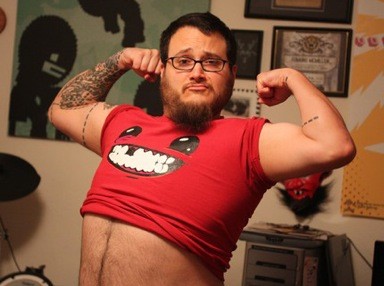 INTERVIEW: SUPER MEAT BOY
KARNIVORE89 - We recently talked with creator of Super Meat Boy, Edmund McMillers, and asked him about a common issue players have with the game.
Super Meat Boy is an expensive Flash game for sale on Steam. Its features include game references, not working, and looking ugly.
TBGthebestgamers: when is the next patch for your game?
souldescen: the next patch will be coming soon with new levels.
TBGthebestgamers: http://www.youtube.com/watch?v=uP47Jro2oAM
TBGthebestgamers: the fans want to know if the new patch fix this glitch
souldescen: there are no glitches in super meat boy. all issues relate to your computer.
souldescen: i am not buying everyone in the world a new computer.
TBGthebestgamers: can you buy everyone a working game instead
souldescen signed off at 11:18:39 PM.
Edmund McMullen is famous for being fat and knocking things over, so we shouldn't have expected much from our interview with him.
Hopefully we can have a longer interview with him sometime soon, sorry gamers!
//id=Story1306753794