THE BEST GAMERS - THE BUZZ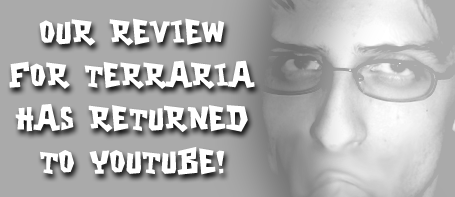 TERRARIA REVIEW IS BACK!
ROCKCOCK64 - On May 17th we posted our Terraria review on YouTube, quickly becoming the hottest and most trusted review on the game. 3 days later, our review had a false DMCA filed by the developer's "public relations" figure, Blue. Just a few days after our first birthday, the video has finally returned for all to watch.
The review can be viewed below for those who haven't already seen it. Through its time offline, almost 60,000 people watched the response video, roughly 25,000 caught the original review when it was up for 3 days, and almost 40,000 watched the review on our website. The video was reuploaded multiple times on YouTube, and all the mirrored videos added up to around 25,000 views overall.
Thanks for all the support gamers. In the end, gaming of course had to win this battle. No poetry can triumph over the power of headshots.
//id=Story1310079366