THE BEST GAMERS - THE BUZZ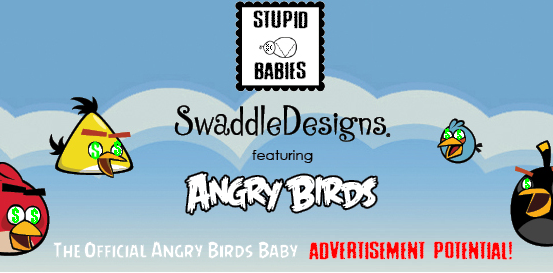 BABY BILLBOARDS: FUTURE OF GAMES
KARNIVORE89 - Wow, It looks like the creators of Angry Birds really DO understand their target demographic after all!
To appease the growing fanbase of restless toddlers, swaddledesigns are releasing a new line of baby care products,
themed after the hideously popular piece of shit iplop game. Now all the babies can brag about how much better they
are at knocking shit over than the other babies. Or better yet, nerdy parents can force their out-of-control obsession with
a 99 cent time waster, right onto their children. The zzZip me sacks just scream,
"Look at me! My parents are fucking scrubs,

and i've already been condemned to the same fate before I can even talk!"
Rumors say angry birds diapers are around the corner as well, so you and your kids can shit all over your favorite aesthetically
displeasing bird or cow or whatever.
//id=Story1313001074