THE BEST GAMERS - THE BUZZ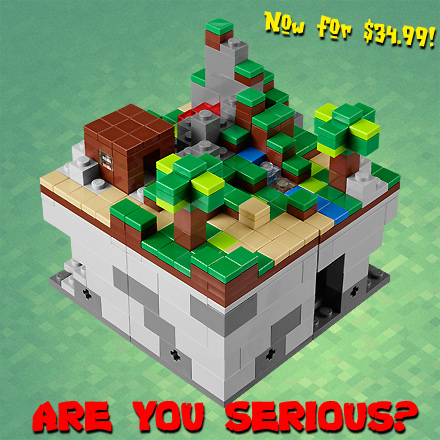 SHITTY LEGO SET UP FOR PRE-ORDER
ROCKCOCK64 - People play Minecraft to pretend it's shitty virtual LEGOs so what happens when Minecraft turns into actual LEGOs? It becomes the most underwhelming LEGO set you could possibly buy, and in tradition of the game, going for a steeper price than it ever should be sold for.
Rather than having an actual theme or having some exclusive pieces that maybe some kid would want, this is all you get. Some block pieces attempting to recreate how shitty the game looks. If you ever bought a LEGO kit when you were kid for maybe $10 you could easily remake this boring shit, but you won't get your hilarious creeper piece to make funny jokes with.
I think it was wrong for anyone to even compare Minecraft to LEGO at this point since LEGO sets can at least be elaborate and be beyond just shitty boring boxes. Instead of kids building a castle with some knights and shit for $35, they can build a block with a brown block that is supposed to be a house. Rather than letting people get creative, let's just suppress them and force them to imagine something out of the two blocks they were given. The biggest part of creativity is to limit how much people can do until there's almost no room to be creative.
Still though, this is a hot hot HOT collector item! Get it while supplies last, everyone is making a bigger deal about this than they should so you might miss your chance to spend $35 on this!
//id=Story1329490724