THE BEST GAMERS - THE BUZZ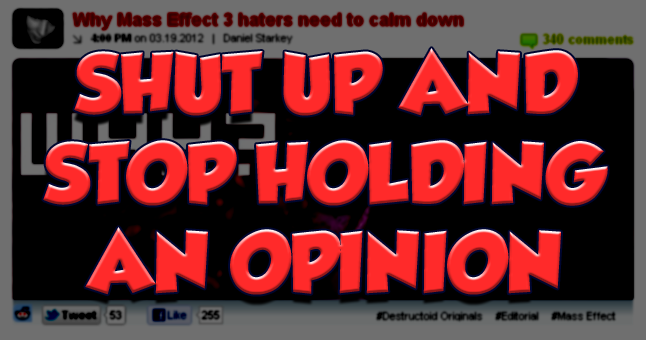 GAMING MEDIA MAD THAT ME3 SUCKS
ROCKCOCK64 - There's a lot of reasons why Mass Effect 3 is terrible, I covered more than enough I think. Since everyone is so vocal about how terrible it is, gaming journalists need to blow everything out of proportion and tell you why you're wrong to dislike a game since they told you to buy it.
Gaming journalists are the best journalists because almost all of them want to be your buddy and say the things you like to hear, they love all the games you love so you can relate with them. If there's ever a journalist who acts like the complete opposite it's so they can validate themselves as the big controversial journalist who is smarter and more betterer than you are. Mix both of these kinds of people together and you get Destructoid.
When a website for gaming news gives a glowing review to a game and everyone disagrees and is upset with a title, it's time to hit the panic button and tell them how wrong these people are. They need to be painted out as monsters, foaming and drooling at the mouth. Stop feeling entitled to something you were promised just because you spent money idiot.
I thought there was plenty of reasons why a person would be upset with Mass Effect 3 even if you were a big fan of the previous two, but according to Daniel Shakey, some guy I never heard of, we're all just haters who need to calm down and not dislike the game anymore. So to all us haters out there, don't hate the player hate the game. Wait no that's not right, don't hate the game either.
//id=Story1332385368