THE BEST GAMERS - THE BUZZ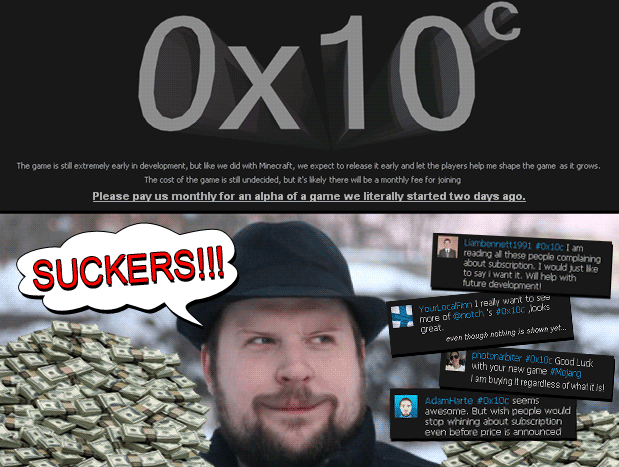 NOTCH UNVEILS NEW MONEY GRABBER
KARNIVORE89 - Notch is doing great at shitting out unfinished games in Java for money. Selling betas, creating a game based on micro-transactions, overpricing a convention that was just used to push a game no one cared about, Mojang is milking Minecraft's popularity for all its worth. Today unveils their next money grabbing method: monthly fees.
0x10c is a game. That's all I can say. There's no details on this, no screenshots, no videos, nothing. What we DO know is that Notch wants to charge monthly fees for an alpha of the game and that the shitty looking logo was rendered in the game engine.
See apparently games that companies make are evil and terrible since they're produced by THE MACHINE. Constant advertising, trailers that don't show gameplay, sickening! Notch is the innovator we need. Why pay for a complete product when you can play for an unfinished one that may never be finished? Why even SHOW a trailer when you can just show a title for a game and say how payments are going to work for it? Developers I hope you are taking notes. Notch knows all about fucking people up the ass and shows just how far you can push a person and still have them throw money at you.
Indie games are going to build a bright future where our games aren't finished or functional but will go on sale before we are even shown a sample of it. Thank you Notch. Be sure to tweet a million times to his shitty page, a third of it is just taken up by Twitter to inspire people to advertise this for him.
UPDATE:
Sorry gamers, it looks like Notch removed the Twitter bar on the website because of us. If you were hoping to toss something up there it's too late.
//id=Story1333498498