THE BEST GAMERS - FAN VIDEOS - Page 1
If you ever needed some help learning some pro tricks in Peggle, XxBaTtLeBoNg420Xx is here to showcase some of the most impressive plays possible in all of Peggle history.
Call of Duty : Black Ops is one of the biggest games of all time, and one of the absolute greatest. MLG PRO's older brother is one of the top ranked players in the game, but she is practicing to reach the top. Watch her demonstrate her skills in this amazing kill montage, showcasing some impressive battle tactics.
SCRUBKILLA666 takes a look at a shooter that many say to be one of the best games of all time. How is some game where you don't start with a gun playing as some dork with glasses that good? SCRUBKILLA666 unravels the scandal and reveals how Valve brainwashes you with bad games.
Counter Strike is a classic team based shooter that is older than time itself, inspiring games such as Call of Duty, Battlefield, and even lame ass games like Half Life. We all know the original, but how does version 1.6 stack up? Ampersand is here on the case to give you the full details.
Resident gaming expert fudman brings you a review on The Hunter, a game that strives to be the hunting title everyone has to have. Does this stealth based shooter upper congooder have what it takes to beat Cabella's Big Buck Fuck?
If you are going to really bother using a PC for gaming, you better get ready to throw away all your money on lots of equipment just so your gaming experience can be decent. 420XXw33dsm0k3rXX420 is here to talk about Logitech's latest and greatest technology and why scrubs try to even make something decent about PC gaming into something horrible.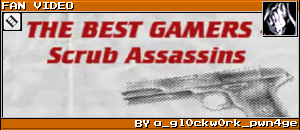 Kicking off the brand new fan video section, a_gl0ckw0rk_pwn4ge brings us his motion picture starring The Best Gamers. The story is a revisiting of a classic piece of history in which Blue got shit on by the team's review of Terraria. Grab some popcorn and take a seat, you're in for a wild ride!