THE BEST GAMERS - E3 COVERAGE ZONE - Page 1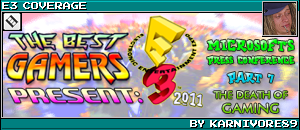 Hey gamers if you were expecting games from Microsoft that was really dumb of you, here's more shit for babies. In this showcase exclusive for the 6 year olds not allowed into E3, Tim Shitter reveals how he wears diapers and needs Cliffy B to change him.
e3 habsuckedd dicck sof ar but cannbhalo Rleally brinb backk ands stonk the cimpmtition of boirgi baby games???
With how much of a TOTAL BUMMER (Toejam and earl reference ((stoner game)) ) E3 has been this year, there still manages to be SOME hope coming from the classics. Gears of War 3 promises to keep you gamers on the edge of your seats crying for more blood and more gore. Can Cliffy B. live up to the hype or will he and his Ghost Dog Ice T just lay a stinker on the table and walk away with their tails between their legs. Let's take a quick peek at what will hopefully be a game to revive E3's stinking corpse of a presentation so far.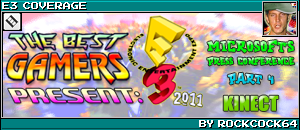 Hey gamers ROCKCOCK64 here bringing you the next part of the Microsoft E3 Conference. In this part you can all thrill and spill as we cover no games. This part of the biggest gaming conference in the world of all time has absolutely no games whatsoever. Welcome to the future gamers.
Here we were checking out Mass Effect which is a star trek game that couldn't afford the licence. Nerds say it's pretty cool, but it looks like there's a lot of talking. At least there's guns and stuff I think? And I think we saw a transformer. This is the third one. So I guess they have been doing this for a while. Haha okay whatever. I heard you can kiss aliens in this. Is that why nerds like this game so much?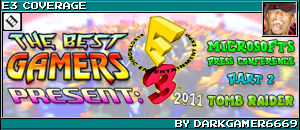 It seems to be the new thing to revisit old and dying franchises in order to try to milk them for all the're worth. Tomb Raider's Lara Croft is no exception. It's almost time for another reincarnation of this voluptuous vixen to grace our consoles. Only this time... she's got a lot less boobs and a lot more moaning :\ Here's to hoping this one isn't a complete stinky turd!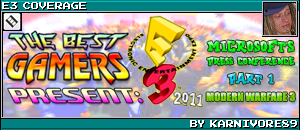 K-vor here giving you your first taste of E3 2011 if you missed the stream. If you did miss the stream, you're a scrub. In the first part of our E3 Coverage, we start off on Microsoft's Press Conference. Their first title to show off? MODERN WARFARE 3. Sadly gamers, this is one of the only good moments of Microsoft's showcase. Let's dive in and check this game out before getting into that mess though...